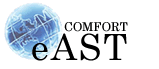 Opiniile Clientilor
Scrieti un comentariu
AP39-1R Thanks for an excellent stay in Bucharest
Postat de
Sergei
(Kyrgyzstan) in 9/28/2007
I am writing this to express my gratitude to EastComfort's friendly and highly efficient staff for a wonderful stay in Bucharest. Starting from the beginning, when I got picked up at the airport (a better rate compared to what the only taxi company operating from the airport is offering, actually, especially for a two-way transfer), and dropped off at the apartment, I felt that I am in professional hands. The AP39-1R apartment is located 24 Balcescu Bulevard, right in the heart of the city. Across the street is a bus stop, 100 m away is one of the busiest intersections with a number of public transportation routes crossing, and a metro station. You can't beat the location factor for this apartment. The apt is on the 7th floor (which I didn't think was much of an inconvenience, it definitely spared me of some noise from the main street), and an elevator is there. The apartment itself contains a kitchenette with a microwave, a coffee maker, a kettle and a small fridge. It's equipped with all the utensils (even a bottle opener, which helped me one day). The main room is very spacious and has an airconditioner (saved me from the afternoon heat), a TV with a cable (programs on all languages). The bed is comfortable and wide. The restroom is spacious (maybe too spacious), with a full-sized bath. Dial up Internet is available (I got a guide on Bucharest and found a free dialup connection phone that worked very well for a dial up and was extremely easy to set up). As far as the services are concerned, Daniela, the boss, speaks wonderful English and is extremely friendly and helpful. I haven't met Bogdan, unfortunately, but both Andrejs, the drivers, were great as well, very helpful and punctual. I wish the whole EastComfort team the very best in their future business and I highly recommend everyone to use their services.
Fine service and wonderful help from Eastcomfort Romania
Postat de
Ralph
(USA) in 9/16/2007
I want to thank you once more for such fine service and this wonderful help you have given to me. The apartment was so convenient to everything from the concerts to the restaurants and everything we were interested in. We thoroughly enjoyed our stay at that apartment near the Hilton. Your services are greatly appreciated. Thank you very much.
Greetings dear Mircae and the EastComfort facilitators :)
Postat de
Javier Gómez
(Mexico) in 5/23/2007
I'ts been some years since my trip to Romania... one of the best experiences ever in my life . DEFINETLY. The stay at the host family house was just EXELENT and I realyl arpeciate every few moments I lived at Brasov .. thanks a lot! .. I really hope I'll be able to go again .. and I hope you will be still around my friend :D I wish you a happy and tranquil experience of this last year's celebrations. See you later my friend ...
Postat de
Ilany Schwartz- Tel-Aviv - ISR
(Bucarest, Romania) in 5/23/2007
I would like to write a good recomandation, but after 72 hourse since my request to CONFIRM booking..i am still on "waiting" status.. without any reply from the staff. Sorry... this is not the kind of service I was waiting for !!! Ilany Schwartz- Tel-Aviv - ISRAEL
Apartment in the center for a great price
Postat de
Jim T.
(Toronto, Canada) in 5/2/2007
I could not believe that I could get acomodation for 4 people in the center at the price lower than EUR 65/night the company arranged a very nice 3 roomm appartment just in the center of Unirii Squari. Staff (Andrei&Bogdan) were helpful and got a pick up from the airport and taken straight to teh apartment. I suggest this company to everybody who is looking for acomodation centraly located at reasonable prices. The apartment missed a toaster.