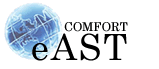 Opiniile Clientilor
Scrieti un comentariu
Your concern for customers
Postat de
audrey
(U.K.) in 1/12/2007
Dear Eastcomfort team, I am a brand new customer and I just want to thank you for services -it was nice to transact business with professionals. I appreciate your prompt attention to a minor complaint. Your prompt action speaks about your concern for your customers.
Bucharest adventure :))
Postat de
Vladimir Vronski
(Russia) in 1/3/2007
The first I wish to all the people a perfect year ! I am 28 years old and a lot of adventure spirit. Togheter with my friends came to Bucharest to search for adventure. The people from EastComfort Bogdan and Andrei (two young boys) was our guids in discovering in the first our apartament and then all the Bucharest atractions (beautiful women and a lot of fine vodka :)). During day we slept in very good quality apartments of eastcomfort because the nights were full of everything a young fellow needs :). The employee of easconfort treated us as friends more then clients.
Great time in Bucharest
Postat de
Don M.
(Ca, USA) in 7/1/2006
I used your services in July of 2006, and had a great experience. I just wanted to say thank you. The apartments were great, and your staff (Bogdan) was very helpful. I would like to use your services at Christmas if possible.
Exactly what I was lookin' for
Postat de
Collin M.
(Canada) in 6/28/2006
Just want to drop you a note and say thanks for such a great lodging.It was exactly what I was lookin'for. Your staff..great also, fast & informative. Thanks again & again.
Dear EastComfort....
Postat de
Mark Coulson
(British Columbia, Canada) in 6/7/2006
I just wanted to write a note to say thankyou for my wanderful stay in Brasov and Bucharest. Both apartments were absolutely wanderful, and I was very impressed. Also, special thanks to our host, Mircea.....we was very professional and a great help to us, taking us too and from the train station in Brasov. Once again, I was very happy with your company, and my next visit to Romania, I will definately stay once again with EastComfort. Thankyou again, La Revedere