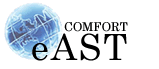 Studio - sleeps 1-2 guests
2 Rooms -sleeps 1-4 guests
3+ Rooms -sleeps 2-6 guests
Corporate & Long Term Apartments
Last Minute Offers
Quick Reservations
(+4) 0728 07 00 07
Mon-Fri 09:00 - 19:00
Sat 10:00 - 16:00
Sun 10:00 - 14:00
Why EastComfort Romania ?

Your Accommodation is Our Business
Simply because you will choose in the easiest way possible the comfort that you always dreamed of! Just take a look at our apartment's photos, and imagine yourself lying down in the living room of your own flat - your temporary stay here in Bucharest.
Apartments in Bucharest
offers good alternative to Bucharest hotels.
EastComfort
is specialized in short term rental apartments in Bucharest, Romania.
We carefully chose each apartment, within walking distance to restaurants, cafes, ATM, banks, supermarkets, taxi stations. For more details please see our Bucharest apartments gallery.
Go out whenever you choose to do it, and return without thinking that the reception might be closed! Choose a perfect apartment for your independent way of living. We will be honored to have you as our client!
Location, Privacy and Comfort
All our apartments are located in the central areas of Bucharest, modern spaces and sense of comfort, fully equipped, nestled in the central areas of Bucharest, apartments for rent offer a better value for your money.
Need to rent a car in Bucharest?

EuroCars is your right partner with daily car rental offers
10 years experince
quality service control
personal customer care