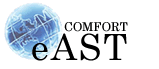 Customer Reviews
Write a review
Too much politeness, don't you think?
Posted by
Marco
(Italy) on 11/9/2005
Sirs & ladies, too much politeness, don't you think? Believe me,I've never met someone like Bogdan or the woman on the phone...I'm just an usual customer not a king...It is so embarasing for me when people act like this. To be honest I've come to Bucharest for leisure, to have my own apartment and a girl with me and I've found here so much kindness...I didn't expect, cause in Romania this is so rare (especially in accommodation field).I'm grateful for your efforts in providing me such a nice place to stay and for your help during my stay with you. Hope to see you soon (not quite sure but in february I think)!
been pretty much happy with eastcomfort
Posted by
Tamy
(Michigan) on 11/4/2005
OK, this is not areally bad review.It isn't really that big of a deal and not big consequences for me, but my only annoyance is the lack of champagne glasses and eggs cup. But your stuff react immediately on this matter. Everything else is great, you would have to be stupid not to rent apartment with you.
Good and bad things
Posted by
Avisar Yatziv
(Israel) on 11/3/2005
Bad things: at our arrival at the apartment we've noticed that the coffee maker and the microwave oven (services on request) aren't there. Good things: The boy check us in, cash the rent and after less than half an our he came back with the oven & maker.It came out that this happened accidentally. Except this incident,the lodging was perfect and we want to thank you for that.Regards,
We liked staying in Bucharest
Posted by
M. Hunts
(Auckland, New Zealand) on 10/26/2005
We (me and my wife) stayed some days last June, 2005, in a studio close to Unirii Square. We liked the flat, nice entrance door, modern and pretty fair for vacation rental in an European Capital, had comfortable furniture, elevator and available parking, close to what we were looking for in Bucharest: quality entertaiment and good restaurants. The people are ok...friendly, helpful. That is why anytime I need accommodation in Bucharest or other town in Romania, I am sure you will be there for me with some quality services.
Happy and pleased with your services
Posted by
Ann W.
(UK) on 10/25/2005
We just want to say how happy we were with our stay in one of your apartments in Bucharest and how pleased we were with the service we received. We will be in contact again before the Autumn to book for our next visit. Best regards