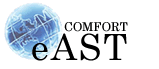 About Accommodation
EastComfort's Bucharest Accommodation is the perfect option for your accommodation in Bucharest.
Our private Bucharest Apartments are located in central city areas, where you can reach by foot commercial places, banks, bars and restaurants and other places of your interest.
Important accommodation discounts are offered for longer periods.

About Bucharest
EastComfort Bucharest Accommodation
is an alternative to Bucharest hotels
Central Locations
Secure accommodation with 24h/day security guarding
Accommodation in 2 ,3 and 4 rooms apartments
Modern or clasic furniture
Fully equipped kitchen
Maid Services
Internet access avaible
Phone: Free local calls
Airport transfers
All Accommodation Offers
Apartments offer you more space and comfort than a hotel room. If you wish a comfortable and pleasant accommodation in Bucharest, visit our
Bucharest Apartments List
and choose the one you like.
Studios: 35-45 Euro/night
2 rooms: 45-65 Euro/night
3 rooms: 57-75 Euro/night
4 rooms: 75-120 Euro/night
If you wish to find out more about
EastComfort Bucharest Apartments
, or about our Accommodation in Bucharest you can
Contact Us